The Acrobits team is always looking for new ways to improve the user experience. Our next update will vastly improve the billing process for all of our clients. Whether you license a single, or multiple apps from us, your monthly bills will now be consolidated into one simplified invoice using a wallet-type solution.
Flexibility matters when it comes to making payments, and we understand that each business approaches its accounts payable differently. This new solution will offer enhanced payment options, including Stripe and wire payments using balance top-ups. Existing providers can continue to make payments through PayPal if they wish.
Acrobits is doubling down on the user experience in 2020. Our clients can expect several quality of life updates throughout the year that will improve the way you interact with our white label softphone platform.
In Q2, we are gearing up to release an update to our ticket system that will allow you to assign roles for any tickets you create. Stay tuned, as this update will improve the way you access technical support with your Cloud Softphone deployments.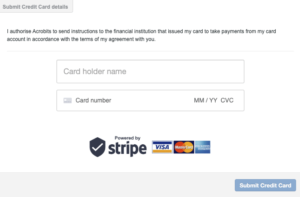 Credit card payments via Stripe, one of the most trusted payment processors in the world.

Manually top-up a prepaid balance and generate a proform invoice automatically. It will now be easier to view current balance, a history of top-ups, and balance usages on your account.

We will now have automatic periodic billing via credit card payments thanks to Stripe.
The future is bright at Acrobits, and we're beyond excited to roll out a series of major updates this year that we think you'll love.