Your Employees Are Going Mobile
We've all seen the high-profile IPOs of freelancing marketplaces like Upwork and Fiverr. More and more employees are making the transition to mobile work. Now more than ever, businesses need to find effective ways to communicate and collaborate.
Streamlining essential communications and maintaining productivity is a real challenge many businesses face.
So, how do you solve this problem in the face of a substantial global workforce shift?
You implement a UCaaS solution that prioritizes the end-user experience.
There's no avoiding the shift to remote work. An estimated 52% of all workers and 90% of knowledge workers are mobile. Companies should embrace this changing trend, seeing it as a valuable opportunity to discover new talent, improve employee morale and productivity, and as a way to reduce your operational expenses.
A Real-World Example of UCaaS In Practice
Let's see how a UCaaS branded softphone works in reality. Say "Company A" uses traditional wired telephony, while "Company B" has already implemented unified communications through a branded softphone.
Company A's employees may feel lost when lead developer John decides to work remotely. They may ping him on Slack. But what if John is away from his computer and his phone doesn't send notifications for Slack? Scenarios like this are happening daily in the world of remote work. And yet, these scenarios are easily solved with a UCaaS platform that prioritizes both the user experience and collaboration.
Company B's employees are better able to cope with remote workers and collaborate to produce the best work possible. Their branded softphone solution ensures that every member of the team is notified and accessible at a moment's notice because it's fully synced with their personal smartphone. They have no trouble connecting to discuss important project milestones, bounce ideas off of each other, and to communicate effectively during crunch.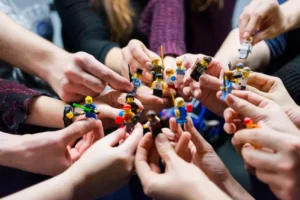 Cloud Softphone Enables the Mobile Workforce
You can't expect your workers to produce high-quality work when the systems they rely on to collaborate are broken and inefficient. Counterintuitive communication platforms hurt your productivity and your ability to innovate.
A cloud-based UCaaS solution like Cloud Softphone is the answer to your communication problems. Here's why:
• It saves your business money. There's no need to maintain outdated wired telephone systems or a series of SaaS subscriptions. UCaaS streamlines all of your communications into one convenient platform. Your employees can talk, text, video conference, share files, and more from any device that can run the branded softphone app you build for your business.
• You can fully embrace remote work. Your employees want to work remotely. UCaaS lets you embrace this change without sacrificing productivity and team cohesion. Your employees can work from anywhere they want and still produce the same results.
• It's easy to scale it as you grow. There's no need to fear growth as it's extremely easy to scale your UCaaS as you add new employees, new departments, and expand the way your business operates. You can add new features with the click of a button to facilitate these changes.
• Collect and learn from valuable analytics. Your business can learn a lot from the feedback it receives from its employees and customers. Cloud Softphone comes with a variety of options when it comes to analytics, allowing you to understand your users, their needs, and how they interact with your branded softphone app.
• Internalize all communications in one platform. Most companies rely on several apps to communicate. This isn't a practical solution, and the quickest way to improve productivity is to streamline all communications in one convenient location.
• Build your VoIP app in just hours. You don't have to pay hundreds of thousands to develop your own VoIP app. With Cloud Softphone, you can build and provision your app in a matter of hours.
Improve Employee Collaboration with Cloud Softphone
What's your company doing to adapt to the remote workforce? Have you implemented a branded softphone to improve collaboration and team cohesion?
Cloud Softphone is the ideal solution for businesses that want access to premium VoIP services with a rich set of features, advanced encryption that can securely handle sensitive information, and the ability to scale your branded softphone as you grow.
THE WORKPLACE IS EVOLVING AT A RAPID PACE.
BOOK YOUR DEMO TODAY TO SEE HOW WE CAN HELP YOU KEEP UP.